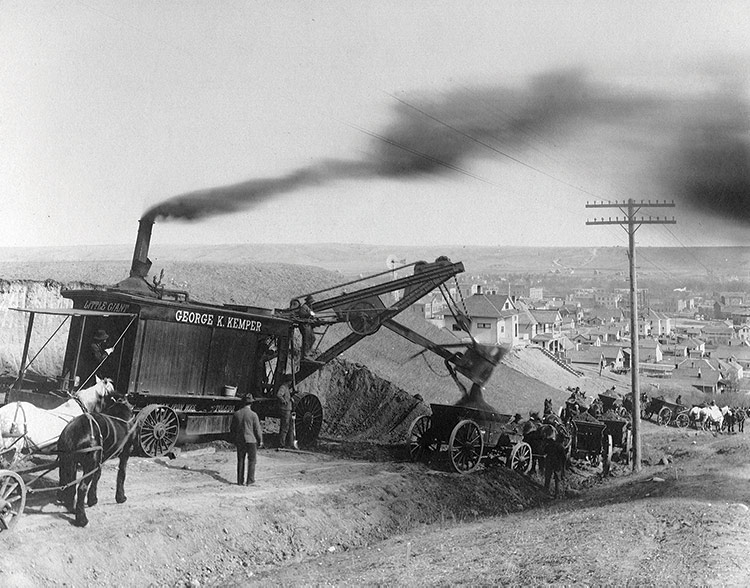 OUR HISTORY
Forged at the turn of the century in North Dakota, the George F. Kemper Construction Company built railway grades and bridges for the Northern Pacific Railway. With the completion of the railway, the business moved to newly developing southern California where George's son, Maxwell F. Kemper and grandson, R. Bruce Kemper built a solid reputation in tunneling and tunnel lining. In 1971, Kemper Construction joined Colorado-based Frontier Constructors, a mining contractor established in 1965, to form Frontier-Kemper Constructors. Frontier-Kemper later established its headquarters and shop facilities in Evansville, Indiana, strategically located to serve the Midwestern and Appalachian coalfields.

In 1979, Frontier-Kemper became affiliated through share ownership with Deilmann-Haniel GmbH of Dortmund, Germany, a respected company with more than 130 years of significant accomplishments in the mine construction and equipment fields. After its merger with the Heitkamp Group in 1989, the Heitkamp-Deilmann-Haniel Group now comprises one of the largest and most respected mining, tunneling, civil and industrial construction contractors in Europe.

In 2001, Frontier-Kemper expanded its engineered machinery and equipment capabilities by forming the FKC-Lake Shore Division, and acquiring the hoisting machinery assets of Lake Shore Mining from the Oldenburg Group. In 2006, the Heitkamp-Deilmann-Haniel Group sold 51% of its ownership in six subsidiaries to privately-owned German investment company ATON GmbH. In 2007, Aton GmbH acquired the remaining 49% interest held by Heitkamp-Deilmann-Haniel. Making Aton the sole owner and shareholder of the DHI Group, Deilmann-Haniel International Mining and Tunneling GmbH.

In June 2011, Tutor Perini Corporation acquired 100% ownership of Frontier-Kemper. Tutor Perini is a leading civil and building construction company offering diversified general contracting and design/build services to private clients and public agencies throughout the world. Tutor Perini has provided construction services since 1894 and is headquartered in Sylmar, California.