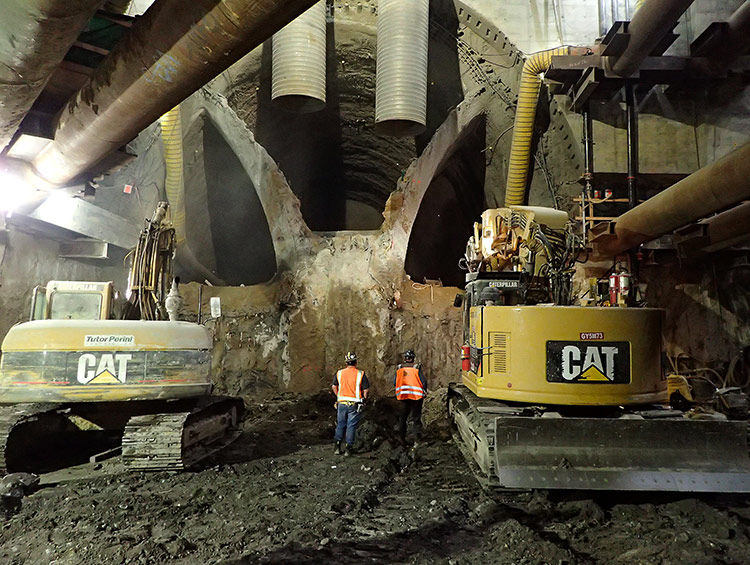 SEM Tunneling
At Frontier-Kemper, we are highly-skilled and experienced in the Sequential Excavation Method of tunneling particularly in soft, non-rock like deposits. This method has its roots in, and at times extends or crosses into, hard rock drill-and-blast methods. It is also referred to as SEM, NATM, or the Shotcrete Method. In SEM excavation, a prescribed sequence of pretreatment, pre-support, and excavation activities are followed.

Immediately upon excavation, the ground is coated with flashcrete to arrest premature ground relaxation while the temporary shotcrete support, including lattice girders and wire mesh, is installed. Methods of pre-support include canopy tubes installed using advanced casing drilling methods, grouted pipe spiling, rebar spiling, and sheets or driven channels. Pocket excavation may be used in conjunction with a face pedestal or wedge to increase face stability.

We have a proven track record of SEM soft ground tunneling projects constructed across North America. Frontier-Kemper recently completed the SFMTA Central Subway Chinatown Station using the SEM tunneling method in the Franciscan Formation. A large, in-filled, buried valley was excavated using soft ground SEM at the John Hart GSR Project in Campbell River, B.C. Canada. SEM techniques were used to tunnel beneath Goose Creek in Leesburg, VA at the Leesburg Plant Inter-Quarry Tunnel.